HOT! WS2815 30/60/144leds/m Flexible Full Color Pixel Led Strip Light 12V addressable RGB Led Strip
Overview:
WS2815 Individual Addressable and breakpoint continue Flex led strips, 60led/m, Control IC built inside the LED, 60pixel/m, 12V, 13.2w/m, 10mm white or black PCB, 15cm JST connector;
Data sheet:
  Product:
  HOT! WS2815 30/60/144leds/m Flexible Full Color Pixel Led Strip Light 12V addressable RGB Led Strip 

  Item No.: 

  WTP-2815X30/60/144-12V 

  LED: 

  WS2815-SMD5050-RGB, 30led/m / 60led/m / 144led/m /
  View angle:
  120°
  IC Chip:
  WS2815
  Input voltage:
  12V
  Power:
  6.6

w/m, 13.2w/m, 31.7w/m

  Size:
  5000x10x2.0(mm), 5m/roll
Features
1) Addressable DC12V WS2815 LED Strips; Long life span 50,000+ hours;
2) Super bright 5050 SMD top LED, high intensity and reliability;
3) Absolutely addressable, each IC built inside a SMD5050-RGB LED;
4) WS2815 has 4 Wires input and output: Datax2, GND and Power+; one LED died, the rest LEDs can keep working;
6) One led one cut;
7) PWM 2KHz/m, Data transmit up to 800kbps, 256 grayscale effect;
8) Each IC control one led, individual controllable;
> Widely used for home decoration use, hotels, clubs, shopping malls
> Architectural decorative lighting, boutique atmosphere lighting
> Extensively applied in background lighting, concealed lighting, channel letter lighting
> Emergency & security lighting, advertisement sign lighting
> Decorative lights for holiday, event, show exhibition
> Applicable for automobile and bicycle decoration, border or contour lighting
Remark:
1) Do not use any acidic, alkaline adhesive fixing Product;
2) It is prohibited to make products with a hard object collision, friction;
3) Do not use your fingers to press LED;
4) Don't make positive and negative reversed;
5) Don't install when product is working;
6) Installation, repair and maintenance must be made by professional Person;
7) Before you use them make sure the power supply voltage to meet the requirements and wire connection correctly.
  Order Info: (IP20/IP65/IP67/IP68)
SN
Model Number
LED Qty
(led/m)
Pixel Qty
(Pixel/m)
PCB Width
(mm)
PCB
Color
Operate
Voltage
Power
(w/m)
Packing
(m/roll)
1
 WTP-2815RGBx30
30led/m
30
10
W/B
12V
6.6
5
2
 WTP-2815RGBx60
60led/m
60
10
W/B
12V
13.2
5
3
 WTP-2815RGBx96
96led/m
96
10
W/B
12V
21.2
5
4
 WTP-2815RGBx144
144led/m
144
12
W/B
12V
31.7
1
Photos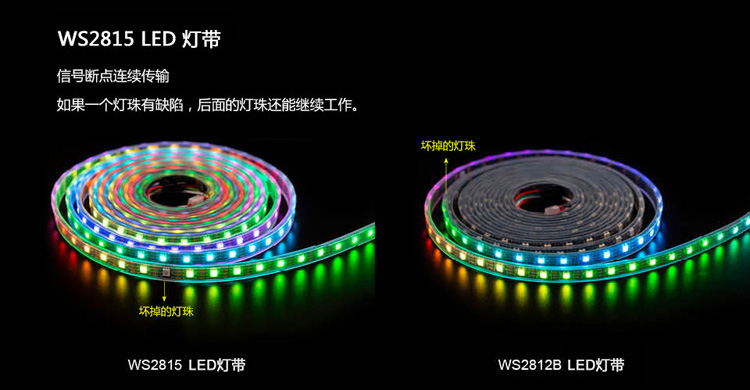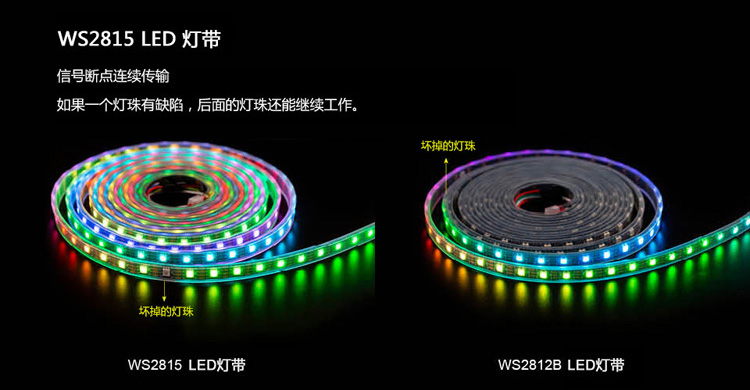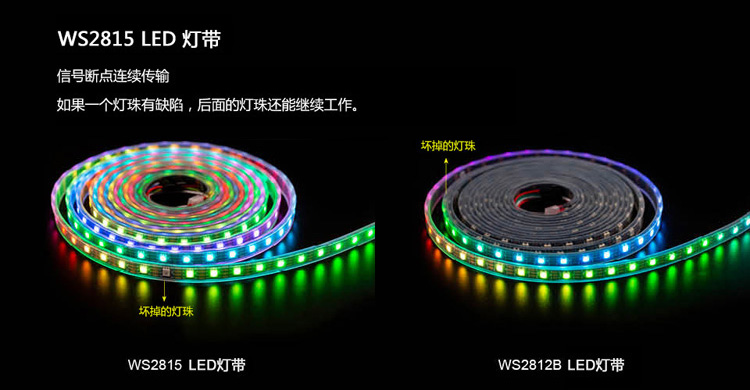 ---
Buy it today | Click here to get the offer?
Tags:
Addressable LED Strip
,
CS8812
,
GS8208
,
one led breaks the rest still work
,
WS2815